Tony L. Garza Obituary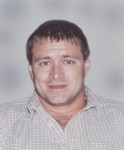 December 11, 1970
-
December 29, 2017
Born in Saginaw, Michigan
Resided in

Hemlock

,

Michigan
Obituary
Tony Lou Garza, cherished father, son, grandfather, and friend, died unexpectedly from a cardiovascular event at his Hemlock home early December 29th, 2017. He was 47.
Tony was born in Saginaw, Michigan on December 11th, 1970, the son of Diane Kade and Luis Garza. His mother worked hard to provide for herself and her son, and although things weren't always easy, Tony thrived on the love she gave him. As the two moved around the state, taking advantage of opportunities when they came along, Tony learned to make friends wherever he went. Neighborhoods were proving grounds for friendships forged, some, to last a lifetime. With friends and a bit of imagination, there was never a dull moment to be had, nor a lack of opportunity to get into a wee bit of mischief. Cousins were plentiful on both sides of the family, and the Garza Family Reunion, a large, annual event, was a cousins' Olympics of sorts, providing opportunities for Tony to match skills with cousins whose athletic abilities rivaled his own.
Tony graduated from Arthur Hill High School in Saginaw in 1989. While enrolled, he earned a reputation as an outstanding athlete in both baseball and football. He focused on a dream of one day playing baseball professionally, and was encouraged along that path as both college and professional baseball recruiting scouts began to take notice of him. Unfortunately, his dream was shattered in his senior year when a devastating auto accident left him with extensive serious injuries. A long recovery period followed, and some painful reminders of the event were to linger as physical and emotional challenges to be conquered over a lifetime. He would never lose his love for the games, though, and would always remain passionately engaged in the strategies of game play and the excitement of competition, whether participating physically in local recreational games, coaching local kids, or supporting his beloved Detroit Tigers, Lions, Red Wings, or U. of M. Wolverines.
Tony was introduced to fatherhood while in his early twenties with the arrival of Samantha, then Jessica. The love and pride that he felt for his daughters—"blessings" as he called them-- was always evident. It was important to him to provide them with sound advice while never attempting to infringe upon their personal choices. Giving good counsel, an ability he likely developed and honed in providing guidance to his daughters, would eventually lead him to become a valued advisor to friends and family whenever a voice of simple wisdom was needed to uncomplicate a stressful situation.
Tony had an enduring thirst for knowledge, and in the years following high school, he sought higher education in both formal and informal settings. He completed some accounting and basic core courses at Saginaw Valley State University and went on to study religion, Eastern philosophy, and creative writing. At 27, he authored "Mom, Why Can't I Play With Billy?" (Copyright 1998), a 111-page novella dealing with the subject of AIDS and geared to pre-teen readers. He loved to see his knowledge tested, and became an extremely tough competitor in games like Jeopardy!, which he watched and played religiously for years.
Tony engaged in a variety of types of work over the years, eventually settling on a career as a tile setter. He began working for his good friend Bill Bricault of Ancestral Tile years ago, and found lasting enjoyment and contentment in that role.
Tony Garza was a man of few words, but the words he chose were meaningful and often of great value to those who would hear them. With the inspirational message he presented to the world via social media, "You have to go through the rain to get to the rainbow," he shared with us the lesson life taught him first-hand, the wisdom he earned in navigating and overcoming the challenges life laid in his path. Life can be difficult. Sometimes it hurts. But have hope, don't be defeated, and hold onto the belief that if you persevere, your future can be bright and beautiful. Tony was a happy man in the final days of his life. His attitude was positive, and he counted among his blessings his freedom, a good job, a home where he was king, and love reciprocated by a beautiful family and all whom he loved. He had found peace. He had reached his rainbow.
Tony is survived by his mother, Diane Kade Knouff; his father, Luis Garza; his daughters, Samantha Garza and Jessica Garza (fiance Dakota Swanson); his grandson, Sawyer Swanson; and his half-sister, Angel Garza. His mother's twin, Donna Kade Bialaszewski, and her son, Craig Kade, who were always regarded as immediate family by Tony, both survive him, while another cousin held just as close, Roy Garza, departed life as a young man. Tony's loving partner of three years, Susan Light, his lifelong friends, Bill Bricault and Jay Thomas, and many beloved aunts, uncles, cousins and friends also mourn Tony's untimely passing. They join his immediate family in preserving treasured memories of the life Tony shared with them.
Cremation will take place.
A memorial service officiated by Pastor Jim Rathbun, Sr. is scheduled for 2:00 p.m. on Saturday, January 6th, 2018, at W.L. Case & Company, 201 N. Miller Road, Saginaw. Friends may visit with the family from 11:00 a.m. until the time of the service. For those wishing to make an expression of sympathy, a Tony Garza Memorial Fund will be established for the benefit of Tony's daughters and grandson.
To send flowers or a remembrance gift to the family of Tony Garza, please visit our Tribute Store.
Services
Visitation
W. L. Case and Company, Miller Rd. Funeral Chapel
201 North Miller Road
Saginaw
,
MI
United States
48609
Service
W. L. Case and Company, Miller Rd. Funeral Chapel
201 North Miller Road
Saginaw
,
MI
United States
48609